Bra communities are popping up across the internet. In fact, one of the web's most popular bra forums on Reddit draws more than 200,000 users to discuss topics of interest. From bra size to measuring techniques, these communities offer users answers to important questions and access to information about the best places to shop for comfortable, Eco-friendly bras.
Guides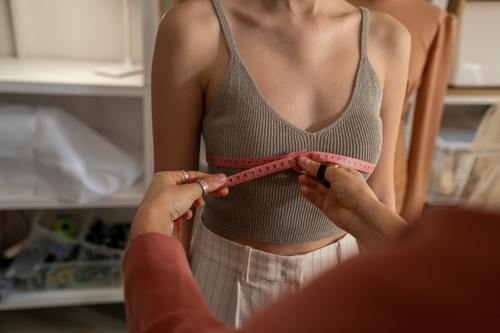 Fashion brands are flooding the market with a variety of sizes from A to D and beyond. For participants, bra communities offer helpful places to find supportive, empathetic members and non-judgmental exchanges about questions on every topic, including those related to sports bra wear. As a person's weight fluctuates, bra sizes change. Recognizing this evolution and respecting the body is a familiar theme in bra communities.
Some social media threads focus on specific global bra brands and provide information about bra databases to help users find a better fitting bra. After all, bra communities focus on finding the right fit. From special needs to single dads who are looking for bras for daughter but haven't a clue where to begin, the communities offer years of knowledge and scores of comments from users going through the same search for the right bra. From a bra calculator to understanding breast shape, community guides focus on how to choose the perfect bra.
Advice
Since the position, spacing, and symmetry of each person's breasts vary, cup sizes invented in 1932 help the manufacturer to produce bras designed to accommodate multiple different breast variables. Initially, cup sizes A to D were developed for women with smaller breasts, and adjustable bands allowed for flexibility. Unfortunately, eighty percent of women wear the incorrect bra size. This uncomfortable reality has created the need for bra communities, which offer advice and help bra wearers find bras that fit. Common errors in choosing bras relate to buying bras with small cup sizes. Symptoms of the wrong bra size include an uncomfortable fit. As the average bra size continues to increase, women are looking for advice and ways to understand how and where to obtain the optimal bra wearing experience.
Support
While the ever elusive perfect bra may not seem like a monumental challenge, half the global population seeks a bra solution, which works for the individual. Communities offer support and a sense of understanding that the group member is not alone on her or his bra journey. Bra forum members love to help other members find the right bra size while helping to promote a positive body outlook. By welcoming global participants, bra communities help members move past the pain of wearing an inadequately fitting bra. By gaining bra understanding about sizes, shapes, and personal preference, community members are able to embark on a new bra journey of comfort. Afterward, a seasoned bra community member may support a new member who is searching for her own way to the ideal bra fit.